Commercial Aluminium Products
We are able to supply and fit an extensive range of high quality commercial grade aluminium products and have fitted many of these locally, in keeping with our high standards and reputation for excellence. One of the major advantages of aluminium is that it is endlessly recyclable and is one of the most versatile and environmentally friendly metals in use today.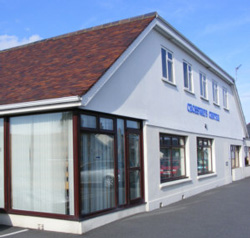 Shopfronts and office entrances
Aluminium is often the first choice of designers as it is strong, light and flexible.
Whether your project involves a minimalist approach or a challenging design brief, aluminium offers the ideal solution to creating a long-lasting and attractive low-maintenance façade. It is durable and can tolerate extreme weather conditions and exposure to sea air, making it the perfect choice for construction in the Channel Islands.
The comprehensive service available from Window Service Centre includes everything from an initial consultation, right through to custom aluminium fabrication, installation and glazing.
Windows
Aluminium windows provide designers slim, clean lines to work with and can help create an elegant living space. The strength and durability of aluminium means that frames can be narrow, allowing a greater surface area of glass which is why aluminium windows are often favoured by those who want to maximise on natural light.
We offer a range of aluminium window styles at unbeatable prices.
Curtain walling
Our curtain wall systems are aluminium-framed walls containing panels of glass. They are non-structural and cover the outer walls of a building and have many advantages:  the strong, lightweight material protects the building and its contents from the weather, reduces construction costs and allows natural light to penetrate deep inside. Furthermore, curtain walls allow architects great scope to vary the appearance of a building without having to worry about structural requirements.
Our team of qualified staff offers a full, bespoke manufacture and installation service.